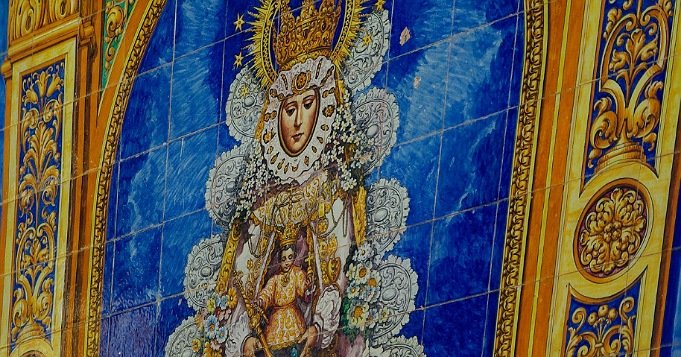 The Virgen del Rocío, has been named in various ways such as "Blanca Paloma" or "La Reina de las Marismas", this being a Marian invocation of the Virgin Mary.
Said Virgin sprinkles her protégés with faith and love, also endowing them with health and harmony, this little virgin arrives at homes to bless with her presence all the members of the family who are willing to welcome her into their hearts, because through love and faith the White dove performs her miracles.
Prayer to venerate the White Dove
O Virgin of the holy spirit, lady of Pentecost, white dove, mother of God and Our mother.

From your sanctuary you manifest and extend your love and care to all who request it.

Under your maternal protection, blessed mother of Rocío, I put my life, jobs, hopes, joys, pains and diseases.

How much I am and have I present and offer to you, Pastor and Queen of the marshes, patron saint of Almonte, I want to be totally yours and to follow the path of my Christian life with you, as a faithful son of the Church.

Mother, listen to the prayer that I address to you with filial confidence and present it to your son, to the divine shepherd, the only savior and redeemer of men.

Through Jesus Christ Our Lord. Amen.
Prayer to ask a favor to the Virgen del Rocío for difficult cases
Virgen del Rocío, White dove, queen of heaven and of Andalusia Lady.

Blessed are you among all women and blessed is the fruit of your womb Jesus, who was conceived by the grace of the holy spirit, an immaculate virgin you gave birth to.

Pray before him, for us, Rociers and Christians, that gathered around your sweet name we implore his sacred forgiveness.

Light our paths, guide our steps that only lead us to heaven. So that in our hearts, we can exchange hatred for love, selfishness for generosity, sadness for joy and violence for peace.

I ask you to attend with love the favor I ask of you (make the desired request) so that my message may reach Jesus with pleasure.

Do not leave me alone that your star always shines in my soul, that when looking at your face my spirit is flooded with your purity, that my cart be your home, that my path be your example, that my medal be a badge of your authentic love of Rociero . Virgen del Rocío, Blanca Paloma, Queen of Heaven, here we are with you, forever and ever, this is your town. Amen.
Continue reading about other prayers and Saints:
Most read content: