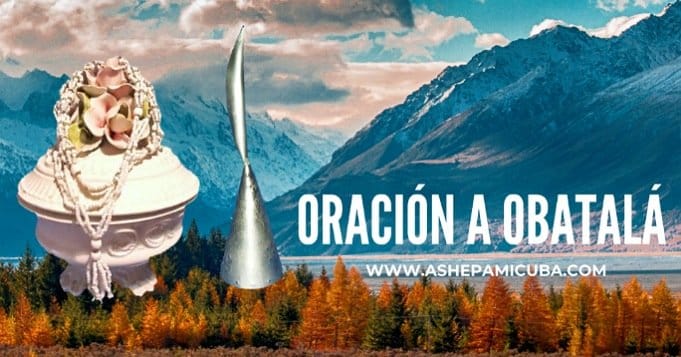 ObatalaYou who are the Father and Mother of all, King and Queen, great creator of all the wonders that exist.
You who take care of us every day, the first that you created us so that the ways of the world would not be alone.
Father, hear our prayer and give us your protection:
You are the purest of all men, you are father and mother at the same time, female and male, dressed in white we see you, with your white necklaces, as the great God of purity and whiteness, you are pure balance and peace. You live escorted by beautiful lilies and white doves.

You are the old man who advises the young, but you are also the young warrior who fights like none other and never loses battles, who gave meaning to the white flag of peace when in the war of the Gods you pronounced "Peace".
Listen to us father Obatalá!
You who gave man a sea of ​​thoughts and words so that we could develop in the ways of life.

You are a predictor of the future, you know everything and you see everything depending on where you go, because you are 16 Gods at the same time, your voice is like a whisper that caresses our mind and guides us along the path of truth.

We know that you are kindness, but you can also be severe, and punish your children when they offend you, you curse in the head, blinding and paralyzing the disrespectful, but you also always forgive, and give your immense blessing to those who know how to repent and speak to you from the heart .

God who has everything white, who gave that color tenderness, you smell clean and coconut, handsome at night, cologne, tuberose and marjoram. White roses and rice adorn your merciful paths.
Always thanking your blessings, your advice, you are also the Virgin of the Mercedes how much shelter it brings us.
We call you with great respect towards you, with a silver bell saying Jekúa Babá!
Prayers to Obatalá for protection translated into Spanish:
God of purity, most ancient saint, the creator of all that is pure and supreme. Justice. Protect us from all evil, Almighty God the Father, Thank you.
Big saint, man and woman, creator world of all good healthy and bad, king and queen, albino owner of purity and all righteousness, great father of the world and protector of me and of all good and healthy things. Our Father, merciful albino. Long live my Father. Thanks.
The translations into Spanish can cause some words in these sentences to lose their meaning in the context, but they are ancestral languages ​​with great power, they must be prayed with faith and trust in the Orisha Obatala.
Some rituals and offerings in the name of Obatala:
Most read content: