The beautiful Oshún not only governs the waters such as rivers and streams, but it can also influence love, health, work, among other issues that are so important in our lives.
That is why we must always call her to come to our aid, showing her a lot of faith and all the love and respect that we carry within.
The Goddess Oshún is one of the Orishas considered 7 African powers, and one of the most adored in the Yoruba and Santeria pantheon, hence its importance is immense, both for its powers and its history.
Oshún has different names, it can be recognized by its variations such as Ósun, Oxum / Ochun. She is held as the patroness of the world's sweet water currents, including lakes, waterfalls, rivers, and springs.
It symbolizes love, the depth of emotions, eroticism, sensuality and femininity in all senses, which is why it is seen as a protector of women.
In Cuba, the cult of Oshún is combined with that of the Virgin of Charity of Copper, adoring them both in the same image. They symbolize the ability to give birth and affection towards people.
How to invoke Oshún and ask him to intercede for us?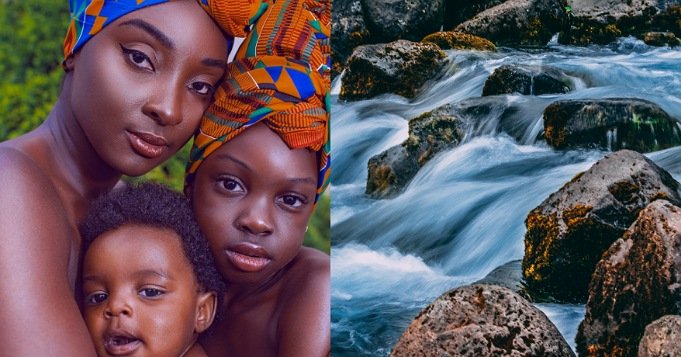 The rituals aimed at formulating requests to Oshún generally they are focused on love, fertility, economic problems, health, among others.
We must know that Oshún likes the attention of her children and devotees, so we must be kind, humble and attentive when praying to her, so that the saint listens to us and blesses us.
Above all, it is recommended to do it sincerely and with devotion:
In a secluded place, where we are calm or in a space of our home and by the light of a yellow or white candle, we ask him.
Before praying to the saint, we can give her offerings in front of her altar or her image, or we take them to the river, her natural temple.
She likes honey, pumpkins, her favorite dish Oshinshin that has different ingredients, as well as sunflowers to increase her beauty and decorate the waters.
Then we can pray to him, always from the heart.
You can continue reading: How to prepare the Oshinshín for Oshún? CLICK HERE
Although there are prayers with specific purposes to perform, keep in mind that there are also prayers that are only used to pay homage and thank her, that we must also pray so that she feels our devotion and gratitude and not just requests from us.
This is a powerful prayer translated from Yoruba to Spanish to thank:
My mother, owner of all the rivers in the world, where every son of a saint goesañarse to receive the blessing of fresh water, to have happiness and joy woman with her skirt and her five handkerchiefs to dance, beautiful queen with her laughter and joy, but we must be careful because we do not know when she is angry, woman (dead), Olofi's messenger Thanks.
We are going to pray to Oshún to listen to us, bring us prosperity and all good
The 6 powerful prayers to Oshún that we will show are the following, additionally at the end of the article we recommend some of the offerings that you can make to invoke the goddess:
Prayer to Oshún for Beauty
I pray to Oshún for Love
Prayer to Oshún for Money and Prosperity
Prayer to Oshún for fertility
Powerful Prayer to Oshún to ask for a special favor
A miraculous prayer to Oshún for health
1. Prayer to Oshún for Beauty, the Patroness of Love and Rivers
This is a prayer through which the saint will not only help us to feel and be aware of our physical beauty and thus increase our security and self-esteem, but will remind us that the most beautiful is inside us and that is what we must Share with the others.
This is the powerful prayer to the goddess Oshún for beauty:
My mother Oshún, I come to you with an important request

Because I know that you will never leave one of your daughters helpless who loves you from the bottom of her heart

I am aware that all women suffer from confidence

And that's why I want to value myself as I am

It is probably not as beautiful as others

But inner beauty is what I love the most

Grant me your help Goddess Oshún

To love and value me as I came into the world

To feel beautiful, regardless of whether I believe it or not

Clear my sight when I see a mirror

Help me feel valuable

I know that beauty is relative

But I want to feel precious

Amen
2. Prayer for Love to the Patroness of the Sweet Waters
This is a prayer par excellence destined for Oshún, since she symbolizes love and fertility.
If you want to reach the person you love and who for some reason cannot be by your side, we ask the Goddess to guide us and help us to attract him.
IMPORTANT: Remember that these requests can NOT force people to love us, the feeling must be reciprocal.
How to ask Oshún for a love? So we pray to him with faith ...
I invoke Mother Oshún, you and your spirit, so that the love of (name of the person you love) and that it be with me (your name) for all eternity,

May he always be in my destiny and his hand always be in mine, unite me lovingly and with faith to (name of the beloved)

I pray to the magical power of your spirit so that that person so desired will notice me, that he loves me and that he always requires my presence in his life.

I evoke your power and abilities in this place for us. No matter how far away you are.

Just as any wave rests on the shore, may my beloved approach and come to me regardless of how far away it is.

May its spirituality and essence belong exclusively to me.

Please, that my beloved have the chance to find me, so that he can contact me, have wishes for me and my presence

Amen
3. A plea to Mother Oshún for money and opening good paths
With this prayer we ask Mother Oshún, who also symbolizes money and material abundance, to allow us to solve our financial mishaps and get out of a bad streak, getting a decent job and allowing the economy to flow.
We ask that you bless us with prosperity so that we can give our family what it deserves.
Mother Oshún, goddess of the fresh waters that purify the universe.

Deity of love, your currents hold in them the emotions that provide the heart with tranquility, calm and redemption.

Beautiful among women, miraculous goddess, patron of gold, I ask you with devotion, open the paths and take care of me from the dark.

Please listen carefully to what I need, spread gold and money over my relatives, I pray that they will never need food and never suffer from the hardships that exist in the world, not today or ever.

You who are blessed, mother, protect those of us who follow your path from misfortunes and provide our souls with true love.

A pinch of your cuteness will be enough, as this is unmatched. Provide abundance and beauty to our families and may the five days of devotion be enough to acquire your qualities.

Oshún, you who are so pious and tender with those who praise you, cover our homes with your mantle and make us united despite adversity. Flow all your fortune and material element into our home.

Amen
4. How to ask Oshun to get pregnant? Prayer for fertility
Oshún is the protector of women and can provide them with fertility, seen as the ability to have children.
In addition, the goddess of fresh waters protects the pregnancy and the unborn children.
So we pray to Oshún with this beautiful prayer to ask for fertility and a healthy pregnancy.
My goddess, patroness of fresh waters, wife and mother of all your devotees, I turn to you and your abilities, with all the humility and devotion that my being can give.

I ask you, mother, to help me and place your hand for me in front of our creator God. So that, just as you have the ability to be a mother, you provide me with such phenomenal ability.

I want more than anything to be a mother.

I allow you to come closer and squeeze my belly with your love, I want you to turn it into a fertile belly so that I can carry my future child and bring him to earth.

Hear my prayers and guide me along the path of the good mother

Amen
5. Prayer to ask Goddess Oshún for a favor, the beautiful dancer of the 5 scarves
We pray for Oshún's favors and blessings to resolve any situation that afflicts us.
The goddess with her powers will always help us and support us to solve our problems.
With this prayer we ask Oshún a favor:
Worthy and pious Oshún, mother and guide of all your faithful

with desperation I come to you looking for wisdom

my situation overwhelms me and I'm not sure how to solve it

And I don't want to break down or grieve

because I fear falling and not being able to get up.

I appeal to your ability to reciprocate favors

that is why I ask you to kindly put your eyes on me

and help me overcome my obstacles

I'm sure with your support

I will have the courage and strength to carry on.

Amen
6. Prayer to ask Goddess Oshún to give us a lot of health
Oshún can also help us on issues associated with curing illnesses and health. She will cleanse the evil that afflicts us with her waters and will carry it away.
This is the prayer to ask Mother Oshún for good health, the most important thing we have in this life.
Oshún, Virgin and Queen, you who comfort and console the afflicted and desperate

I ask you, Goddess, remove everything bad from me and protect me as much as I adore you

and keep me from pain and disease.

With your kindness shower blessings on me so that I can recover from health

and may the disease never touch me again

heal me with your waters, so that I can wake up free from all harm.

Thank you, Mother, for always being by my side and not letting me fall

Amen
By invoking Oshún we can give him his favorite offerings:
Most read content: