Praying and praying is communicating directly with our spirit guides, is to put before them all our requests and also to thank them for their blessings.
Many of us are those who pray every night and every sunrise for the well-being of our loved ones and those close to us.
In addition, all of us who are parents or grandparents pray for our children or grandchildren, especially when they have problems or when their health or safety is in danger.
For the little ones, we always pray asking for divine protection, the blessing of heaven and imploring that all danger be removed from them.
We must pray for them, pray and give thanks for having been blessed with the miracle of having a child.
So they too grow appreciating and thanking their home, family, and friends, and they tend to be happier.
How to pray for the speedy healing of our children?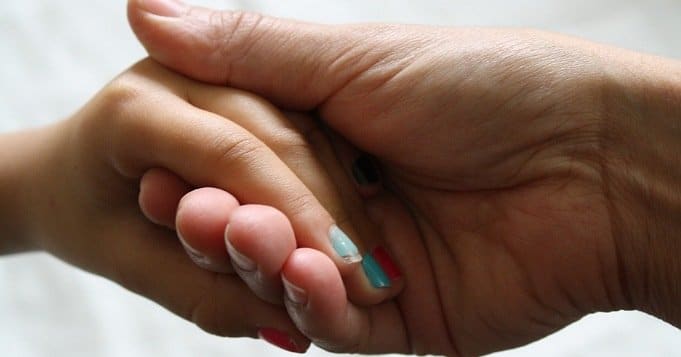 When we are faced with situations that touch our hearts and we go through the suffering of having sick children, let us remember that prayer must be constant so that they heal soon and be protected from all evil.
Seeing our sick children causes great pain to all human beings and all people who are moved by the situation.
For this reason, many times prayer chains of many people are integrated who raise prayers for the well-being of the patient.
Let us know that prayer is the best way to have communication with our spiritual guides, since through prayer we can express our gratitude, our faith, as well as concerns and requests.
Prayer must be kept in mind at all times, not only to beg for needs, but also to give thanks for all that he gives us; life, a new day, health, our family and above all to ask for those most in need.
Also, the prayer of healing is a powerful weapon, since our heavenly father is our protective shield and protects us from all evil, so we entrust ourselves to him with a prayer for the health of our son.
To pray for our sick child we must take his hand and raise our prayers with immense faith in the answer.
We can light a white candle before the image of our spiritual guides and ask them to heal him soon and to alleviate his suffering and that of his family members.
So we pray to God for the protection of our children:
Lord, you who always give sweet dreams to your children and guide them on the path of light

You who remove all danger and violence, and shelter them under the shadow of your protection.

My father, please protect my son. I do not ask you for anything else, I only ask you to give him health and protect him from all the evil that exists in this world.

Bless the path of my children, remove everything bad that is ahead and protect them from bad influences and dangers.

May everything good that is destined for me, pass your way, to always protect you from all difficulties.

Lord walk through my house and please take away any sadness, worry, pain or illness.

With your holy mantle protect my family and drive away anyone who wants to harm us or take away our peace of mind. Deliver us from evil eyes, envy and evil.

Eternal Father who art in heaven, today I pray to you for the health and well-being of my children. Protect them from evil as you did with your son Jesus.

You who see everything and can do everything, take care of them, give them your protection and make sure that evil does not reach them, or touch them.

I ask you please, that my children seek refuge only in you and not in bad company or in vices.

May they never leave you and may your mercy be renewed over their lives every month.añana.

I beg you to cover them with your mantle, keep them away from danger, from bad people and from everything you can do.añar them.

Take care of and bless my children with your eternal love.

Amen
Of course, one of the most common requests of parents to spirit guides is for the health of their children.
We all know that a sick child is one of the strongest blows and the worst sufferings of a parent.
Those who give everything for their children and ask to suffer instead, pray for their health and well-being no matter how old they are.
A prayer to pray and ask the Guardian Angel for the health of our children:
My Guardian Angel, you who guide my steps on the right path and remove difficulties and dangers from my home

You who watch over my family and take care of my loved ones, allowing them to advance through life safely

Cover my family with your precious sacred mantle and give us the strength to move forward and the faith to live trusting in your grace.

Protect us today from all evil, danger or disease.

My Lord, I place in your hands the needs of my children, as well as the health and protection of my family.

Protect us with your immense power, touch us with your infinite mercy and give us your blessing one more day.

My father, my children are the most beautiful gift that you have given me. I ask that their lives be filled with peace, health, love, joys and victories.

Guide them on the right path and protect them always

May they never lack health, tranquility or work,

Take care of my children and protect them against all evil, with your immense power and infinite goodness.

I ask you with all my heart to continue taking care of mine, as you have done so far, brighten my day today and give us your blessing.

My Angel, take and lead my children by the hand wherever they go and take care of them from all dangers so that they return home safely

Bless them with creativity, courage, skill, and abundance and endow them with goodwill, self-control, and discipline.

Free my children from any danger and guide them home every day.

Amen
The most powerful prayers for healing are those we pray when our child is ill, because there can be no more pain in the heart than the one that overwhelms us at those times.
One way to avoid despair is to pray to our spirit guides and ask their intercession for the health of our son.
We must always pray these prayers with great faith, so that his health may soon be restored.
Miraculous healing prayer for a sick child:
My Guardian Angel, you who fill my days with blessings, today I cry out to you to ask for the health of my son,

My Lord, I know that everything is possible in you, cover it with your miraculous hands,

I ask you with devotion for the health of (Speak the name of the person with faith).

I fully trust you, for you there are neither the impossible nor the unattainable,

That is why, like every day of my life, today I put my faith in you, and I put myself at your mercy,

Relieves all his ills and removes all disease from him,

calm all discomfort in my son's body, I beg you with all my love, heed our prayers.

You who listen to the deepest feelings of your faithful, I ask you not to abandon me and pass your healing hands on my son,

that you restore his health and that he is safe and sound soon

protect him from all danger, so that his life is no longer at risk

you know the hearts of your children and you are not indifferent to the plea of ​​each one of them.

You know what ails us and you understand the concern of all parents who suffer when they see their children sick.

Take care of his body and soul, so that he can feel your relief, your care and reestablish himself

I want to thank you for the health that my son will receive and your healing comfort for his loved ones

Amen
Other powerful prayers and rituals for health:
Most read content: