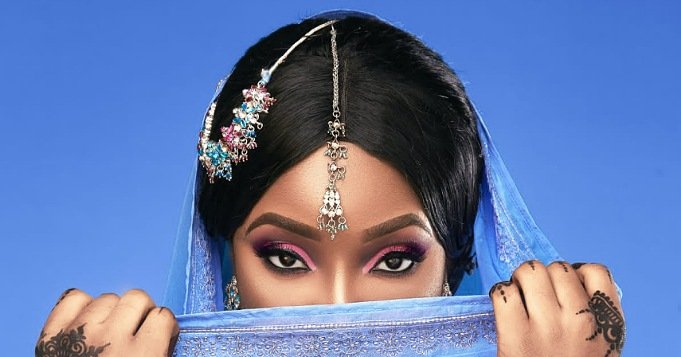 Yemaya Okute is the way of Yemaya also known as Okute Odofe Iyagba. She is severe and spiteful and does not tolerate wrong actions, which she punishes with all the force of her waters.
The Ararás call her Okuadume and Ikondole and her full Yoruba name is Okunte Oggunasom. She lives on the shoreline reefs and was born in Oggunda Melli.
It is known as "The keeper of Olokun", because, although habita the reefs of the coast, it can be found in the river, in the sea, in the lagoon or in the mountains.
According to Yoruba legends, this is the path to Yemayá in which it is associated with Iron King Oggún, of which he is wife and next to him eats roosters. That is why her offerings can be taken to the sea or to the jungle, since she sometimes hides in the mountains next to Oggún.
Characteristics and attention to Yemayá Okute
Yemaya Okute It is an orisha that prefers shades such as pale blue, dark blue and strong pink. In this path, the Goddess of the Seas represents the desire for battle, as an indomitable warrior, who carries two machetes and a knife at her waist into combat. In addition, she accompaniedaña of all Oggun's tools.
But not only is this Yemayá a warrior, but she is also a working woman who, according to the Patakíes, was fighting to move forward with her house together with Oggún.
As we explained before, he should not be angered, because his temper is extremely irascible and he does not accept offenses. She is spiteful and lives interned in the virgin forest or in desolate places, because she is also a witch and likes to cast spells left and right.
It is said that Yemayá Okute made the ocean for Olokun and guards the entrance so that no one bothers her brother.
She is the deity of cold waters, so it is said that her children are more fortunate in the winter months and that they must bring ice in some ceremonies to ask her for a great favor.
Attributes of this Yemayá road
The attributes and elements of power of Yemayá Okute They respond to the waters, as a representation of the Goddess of the Seas, but she also carries others that symbolize her path with Oggún such as:
a cedar wood boat painted blue and white
another pot of lead
an anvil
a pinwheel
a chain with the 21 tools of Oggún. This chain is tied around the boat inside its tureen.
Most read content: