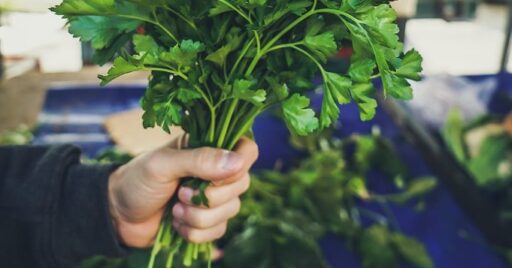 Parsley It is a Mediterranean herb highly praised for its many culinary, medicinal and magical properties. It is an ancient plant, has been around for more than 2000 years and has some proven benefits, as a small amount of that plant is known to be full of vitamins.
Its Scientific name is Petroselinum crispum.
It has been used for centuries to alleviate numerous ailments and is known as a miracle herb. The fact is that parsley is an important source of vitamin K that supports bone health, and it is also rich in vitamin C, which supports the immune system.

It is also an antioxidant that can help protect the body against the damage of disease and fight the effects of aging.
Parsley to take care of health
As we can see, parsley is one of the most important plants when it comes to maintaining a balanced diet and taking care of health. It is said that consuming it every day can make our body feel stronger and healthier.

Among its many healing properties we can find:
Kidney stone prevention
Joint pain relief
Fight fatigue
Rich in cancer fighting compounds
Prevention and treatment of diabetes
Parsley in the Yoruba religion
His name in Lucumi language: Isako. Iyádédé. and in Congo: Ntuoro. Vititi kamatuya.

Parsley has been used for centuries for its power in spiritual and healing practices, as the plant drives away bad energies and provides tranquility.
Sacred plant of the Orisha Oshún
In the Yoruba religion, parsley is the plant of Oshun, the goddess of love, rivers and wealth, and with her grass she transmits Ashé and all the good things that we ask of her when we offer it.

Offerings are made to the Orisha in general to make requests about health, abundance, love and well-being.

This plant has multiple magical properties, as it is used to cross and for dispossession baths, and thus open the paths of prosperity.
Ritual with parsley
It is said that taking cooking with the root of parsley, raw milk, sacu-sacu or malanguilla (a plant that belongs to Inle y Ozai) and rosemary flowers, for seven days on an empty stomach, it helps to eliminate spells of any kind and purify us, warding off bad vibes that could be tormenting us.

Sprigs of parsley can also be worn as charms to ward off bad eyes and avoid any harm intended for us.
Most read content: