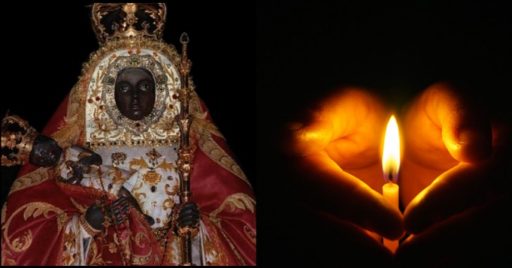 Nuestra Señora de la Candelaria It is that deity that faithful throughout the world evoke especially when they face serious difficulties.
Thousands of blessings and prayers are dedicated to her every day in all languages.
La Virgen de la Candelaria It is one of the oldest invocations of the Virgin Mary, whose liturgical feast is celebrated throughout the Catholic Church on February 2 and its main feast is celebrated on August 15 in the Canary Islands in Spain.aña.
The history of this dedication will be forever linked to the culture of the Canary Islands. It is said that the image of the Virgin appeared around 1400 at the mouth of the Chimisay ravine, in the Canarian municipality of Güímar, 95 years before the conquest of Tenerife.
Now Virgin In the world, rituals and miracles are attributed to her that have given her the title of "Universal Patroness" in Spain.aña. There, she is one of the most revered deities.
It is said that her image is due to the esoteric significance of recognized fame and miracles that, without denying the Christian tradition of Mary, the "Black Virgins" have.
For this reason, his face is black and his clothes are filled with blue, white and gold. Also, she carries a baby on her left arm.
Worship to La Candelaria in Cuba
The Spanish immigrants who came to America at the time of the conquest, brought with them the faith in Nuestra Señora de la Candelaria. Hernán Cortés was a devotee of her and for that reason, there are more than 30 places in the American continent that bear her name in tribute.
In Cuba, the deity is the patron of the province of Camagüey. There a carving of him is located on the altar of the Greater Parish.
The Cuban town that bears this name, Candelaria, founded by the Canaries several centuries ago, even stands out.
Of course, in the Yoruba religion and as a result of transculturation and criollismo, The Virgin of Candelaria is syncretized with Oyá, orisha and goddess of the winds, of the winds of change, the winds of the Mind.
The Virgin of Candelaria and the Orisha Oyá
Oyá is the accompanying goddessañante of the regent orisha obbatala and represents the Pure Air. She is the goddess of storms and the strong wind that precedes them. She is one of the reckless warrior Orishas and the only one who can dominate the eggunes or spirits of the dead.
In Cuba, Oyá it is associated with other atmospheric phenomena, such as sparks, windspouts and lightning.
His cult is extremely important, due to its relationship with storms and its association with the dead.
Most read content: