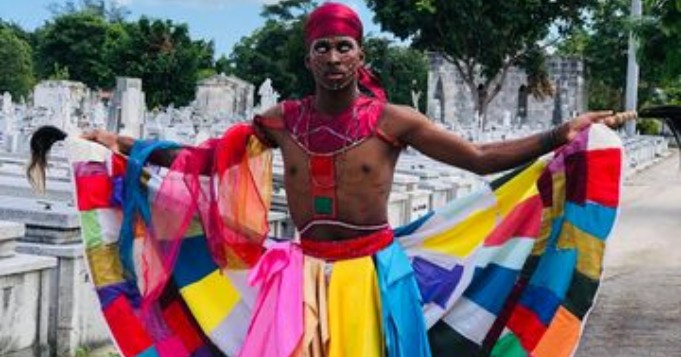 Every October 15 we venerate in Afro-Cuban culture the Yoruba goddess Oyá, owner of sparks and mother of Eggunes, in syncretism with Santa Teresa de Jesús.
On this day we thank you for all your blessings, and we ask you to continue guarding us along the spiritual path with open paths and good health.
With this beautiful prayer we invoke the great power of the Yoruba warrior Oyá Yansa.
Prayer to the beloved mother Oyá, lady of our darkness
By praying this prayer dedicated to Oyá for protection and thanks you can light a candle of any color except black in his name.
Beloved and divine mother Oyá! Queen who gives us light by consciously awakening our religion and our faith in the divine creator Olorum and benefits us with his positive and organizing action, acting on our mind, ideas, creations and religion.

Deliver us, O mother, from fanaticism and emotional excesses, ordering and positively directing our religiosity, so that we never distort our faith.

We ask you to receive us in your love and protect us in every way, during this evolutionary journey on the material plane, and to free us from temptations, covering us with your crystalline vision of faith in Olorum, leading us along the challenging path, which lead all your children towards the light of our eternal soul.

Benevolent Mother, who helps us on our way, to obtain or progress, have mercy on these children who are deceived.añatwo and do not understand the true faith. Have mercy on those who are allowed to die in every trial they have to go through.

Mother Oyá may your light illuminate us, praising us and attracting us with faith, humility and union, so that we can work for charity and also be worthy of your protection. Your children on earth we ask you to clarify our faith, strengthening us so that we are not deceived.añatwo for false truths.

We ask your forgiveness, Mother Oyá, if we fail in our mission, leaving our selfishness and vanity to ourselves, programming our closeness and our kind Supreme God.

take us, mother Oyá, to your blessing, to have security and courage, to continue without giving up, and when it gets difficult let's keep fighting without losing faith and letting ourselves be carried away by the light that will guide us to find God.

We present ourselves before you and ask for your protection and your luminous guide to lead us both in our luminous fields and in our dark fields, always illuminated by our crystalline light and protected by our faith in our Divine Creator.

Protect us with your light and with your magical force, giving us the necessary protection to stop the attacks of the forces of evil on us.

Feed our soul, Divine Mother, with your energy and radiance of faith, nurturing us with vibrations of religiosity, so that we walk the paths of the challenges of love, divine justice and faith, to accelerate our evolution.

Hail, Divine Mother of Faith! Hail beloved mother Oyá that you take us back to the time of faith;

thank you my mother Oyá Iyansa!
Image gallery of representation to the orisha Oyá iyansa
📷 Photos courtesy of Lázaro Martínez, Dancer of the company Raíces Profundas @lachyowen
We share with you powerful rituals at the foot of Oyá
Most read content: