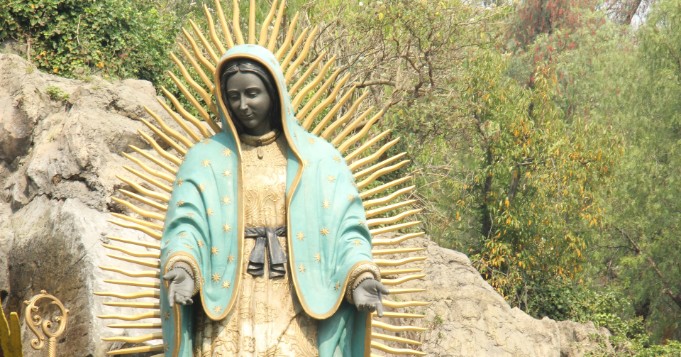 Our Lady of Guadalupe is ato Marian invocation represented by iconography concerning the Mexican Catholic Church.
The Brunette Virgin as it is also called in allusion to her tanned skin and black hair, she is worshiped internationally, although the cradle of her devotion saw its origins in the north of Mexico City, when Our Lady of Guadalupe told Juan Diego that her temple would be erected. in the Cerro del Tepeyac.
The Festival corresponding to the Virgin of Guadalupe takes place every year on December 12, at which time its devotees adorn their altars with white roses.
How to make a request to the Virgin of Guadalupe? A powerful prayer
La Morenita is known for accomplishing extraordinary miracles, among which those related to health and family stand out.
The Virgin of Guadalupe advocates for:
Peace and
unity among human beings.
An old legend relates that on one occasion while two men were fighting near the sanctuary built in their name, a black mare ran past them, crashing into them, after the impact the opponents were separated.
The animal disappeared and the devotees took this event as a divine sign.
La Morenita can be invoked through prayer and a white rose, always offered to her from faith.
Prayer to request the intercession of the Virgin of Guadalupe
Most Holy Virgin of Guadalupe, Mother of God, Lady and our Mother.

Come here prostrate before your holy image, which you left stamped on Juan Diego's tilma, as a pledge of love, goodness and mercy.

The words you said to Juan with ineffable tenderness still resonate:

"My dearest son, Juan whom I love like a little and delicate one"

When radiant with beauty you presented yourself before his sight on the hill of Tepeyac.

Make us deserve to hear those same words deep in our souls.

Yes, you are our Mother; The Mother of God is our Mother, the most tender, the most compassionate.

And to be our Mother and shelter us under the mantle of your protection, you stayed in your image of Guadalupe.

Most Holy Virgin of Guadalupe, show that you are our Mother.

Defend us in temptations, comfort us in sorrows, and help us in all our needs.

In the dangers, in the diseases, in the persecutions, in the bitterness, in the abandonments, in the hour of our death, look at us with compassionate eyes and never separate from us.
Pray: Our Father, Hail Mary and Glory. In gratitude for the miraculous portrait, miracle and continuous testimony of faith.
We share other powerful prayers to Los Santos:
Most read content: