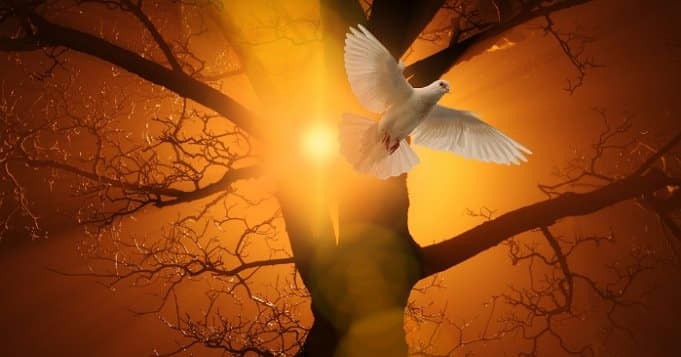 The Holy Spirit is the name with which the presence of God on earth is identified.
It is the state that the omnipotent adopts to become closer to man and to be able to come to his aid more quickly, without leaving aside his other obligations.
With the following prayers a call is made to the Holy Spirit, to:
Invoke their presence and assistance in moments of communion,
face adversity and
find inner peace.
It is the holy spirit, the certainty that the religious possesses that he is not alone on earth and that he guides and watches over his steps above all else.
Because God's timing is perfect and everything that comes into our lives pursues a greater purpose.
Prayer to receive Spiritual Communion
I would like, Lord, to receive you, with that purity, humility and devotion with which your Blessed Mother received you, with the spirit and fervor of the saints. Amen.
Spiritual communion it is the interrelation that occurs between man and spirit, when the religious decides to house God in his heart, opening the doors of his house and of his soul to his divine presence.
Prayer to the Holy Spirit
Come, Holy Spirit, fill the hearts of your faithful and kindle in them the fire of your love.

Send your spirit and all things will be created. And you will renew the face of the earth.

O God, who has instructed the hearts of your faithful with the light of the Holy Spirit! Grant us, according to the same Spirit, to know right things and always enjoy his divine consolations.

Through Jesus Christ Our Lord. Amen.
At the beginning of the sentence
The beginning of prayer is an essential part of establishing connection with the holy spirit.
Once it is pronounced, the desire to surrender to God and with this consecrate oneself under his virtue is made clear.
Through this prayer, the protection of the savior and the need to be able to come before him in difficult moments is requested.
At the end of the prayer
We thank you, almighty God, for all your benefits. You who live and reign forever and ever. Amen.
We end the prayer by thanking God for his presence and for his infinite favors, benefits that are a sign of his infinite mercy.
In this part of the sentence, man recognizes the power of the creator which is unlimited and perishable throughout time and space.
Other powerful prayers for each day of the week pray to God:
Most read content: