Saint Eustace He is one of the most famous martyrs of the Church, venerated for centuries, both in the East and the West.
Is one of the Fourteen Holy Helpers of the Catholic Church and known as the pattern of hunters. As one of the 14 saints his power is associated with interceding against family disputes.
His legends relate that he was a Roman general in the armies of the emperor Trajan, his name was Placido and he was very fond of hunting.
Saint Saint Eustace of Rome fought under the command of the emperor Trajan, converted to Christianity.
His feast is celebrated on September 20, when the great Saint and Martyr Eustace, his wife Teopiste and their sons Agapio and Teopisto are commemorated.
History and legends of Saint Eustatius: The saint of deer
Saint Eustace is said to be the youngest and most esteemed general in the entire Roman Empire and despite being a pagan, he was remarkably virtuous and had a special love for the poor.
Because of his qualities and his courageous and strong soul, God revealed himself to him as he had done to Saint Paul.
Legend has it that one day when Saint Eustace went hunting in the forest, the deer he was chasing turned and faced him and then a cross appeared among the trees.
That was enough for him to embrace the life of believers in Christ.
His wife Theopist was also visited by an angel and converted to Christianity. Later the two children of the marriage received baptism.
The stag's warning and the demon's attack:
But days later, the same deer that he had seen in the forest, came to warn Eustaquio to pray a lot because the demon was going to attack him hard.
Thus, his family was attacked and all the members were sold to a slave trader. He worked as a farmer, his wife as a shelter janitor, and his two children as messengers.
But the emperor Trajan, sought out General Eustace to drive away the enemies of the border, which he finally achieved.
But the family did not want to take part in the celebration or in the worship of pagan gods, so the emperor's soldiers killed Eustace, his wife and children.
Prayer of Saint Eustace to hunt deer: The patron saint of hunters
Due to the history and legend that surrounds this saint, he is asked to help and protect hunters in their tasks.
Oh, Saint Eustace! you who, running with all your might, wanted to hunt that deer, and climbed to the peaks to find it, you who were wise and cunning, and seeking to hunt you were also hunted by our Lord.

You who saw between the antlers of that animal the shape of the sacred Holy Cross, that cross that shone more than the light of the sun, and there appeared the image of Jesus Christ, who spoke to you closely through the mouth of the deer saying:

Oh Placidus, why do you persecute me! For you I have appeared here in the figure of a deer; I am Christ, whom you venerate without knowing it; your alms have risen to me, and that is why I have come, to hunt yourself through the deer that you wanted to hunt.

We ask you to help us so that hunting is fruitful and abundant, we ask you to intercede on the mountain and on the mountain.aña, wherever we are going to hunt, but let it be with your protection, just as you were protected with the blessing of the Lord.

We pray that our request may come to you, mighty saint. Amen.
Prayers to the Saint: invoked against family disputes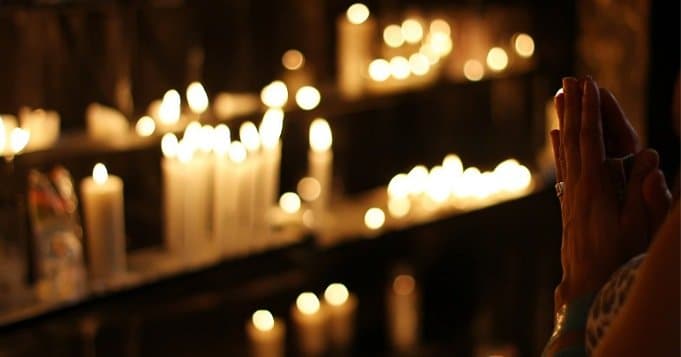 Saint Eustace is represented with the symbols of a crucifix and a deer in connection with his conversion, and with a furnace, for his death.
It is said, according to his legend, that he was locked with his family in a bronze ox, under which a bonfire was lit.
The prayers addressed to him invoke his help in difficult situations and family problems, to obtain his protection and to intercede in complicated situations.
Prayer dedicated to Saint Eustace:
Before the prayer, let's choose a moment of calm to pray and light a white candle to make our request to the saint.
Glorious Saint Eustace we turn to you, full of confidence in your intercession.

We are drawn to you with a special devotion and we know that our supplications will be more pleasing to God our Lord, if you, who are so beloved of Him, present them to Him.

Your charity, admirable reflection of that of God, inclines you to help all misery, to console all pain and to please all desire and need, if this is to be for the benefit of our soul.

Look, then, at our miseries and sorrows, our jobs and needs, our good desires, and reach out to us that each day we secure more our eternal salvation with the practice of good works and the imitation of your virtues.

Amen.
This is the prayer to Saint Eustace to beg him for our Healing
I am desperate, my Lord, and only around is the shadow.

You, servant Eustaquio intercede for my desolation, Lord, and I ask You to give him your blessing so that he alleviates this tear in my spirit and gives me back the strength of Your Love. Amen.
Learn about other prayers that you can dedicate to the Saints:
Most read content: