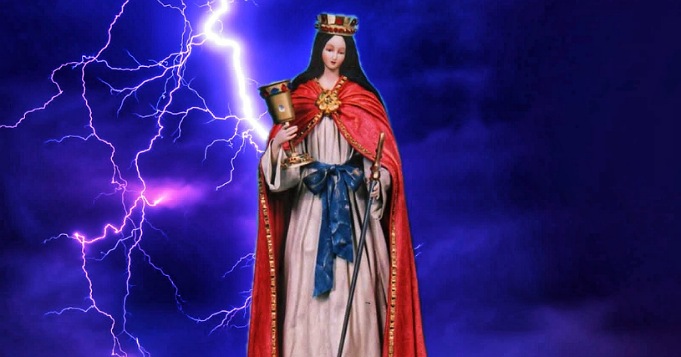 Santa Barbara was a virgin and martiChristian r that he became one of the fourteen helper saints belonging to the Catholic Church due to the broad devotion and faith that humanity placed in his figure.
In Cuba, Santa Bárbara Bendita is one of the most revered saints, having several Churches devoted mainly to her worship throughout the length and breadth of the country.
Shango is the Yoruba deity who won its syncretism through the figure of Santa Bárbara, a product of the repression that existed in the past towards the Yoruba roots, at the time when the slave trade began on the Caribbean island.
His feast is celebrated on December 4, on the occasion of his commemoration, many Cubans acquire the name of Barbara or its similar in masculine, in homage to the patron saint of lightning.
This deity has as Attributes of Power:
Lightning,
the crown with a host,
a tower with three windows and
a chalice.
Symbols that represent her power and her martyrdom, making her totally different from the other Catholic saints.
Santa Barbara is considered the Patron of:
Thunderstorms,
artillery,
the stonework and
mining.
Adoration of Blessed Saint Barbara
In a delightful Garden, Barbara, a virginal flower, was chosen for the Wife of the High Majesty.

He has freed his devotees from lightning and lightning, and to die without confession in very dangerous acts.

Hear a wonder, and a true miracle that happened this year, with a poor passenger.

From Villa Hermosa he left with a beast, on horseback; Six bandits put him in a saw to steal him.

They stabbed him ten times, and left him for dead; After eight days, two woodcutters saw the body lying, they complained in pain, with sad voices they asked for a confessor to be brought to them.

Stunned and stunned with such great wonder, they reported to Justice, and the whole town came.

A religious arrived, saying to him: what was he asking for? Confession: that I am living by this Divine Image.

As soon as he confessed, without saying another word, he went to report to the Accentor by miracle of this Saint.

In his chest they found him with a true faith this Divine Portrait of Barbara, beautiful and beautiful.

Barbara is the intercessor of the supreme Trinity, and through her she frees until the last hour.

Of lightning and lightning you are, Barbara, lawyer, because you save us from danger if you are really called.

We pray to JESUS, blessed fruit of Mary, save us from storms, for we adore Barbara.
Learn more about the beautiful Santa Bárbara Bendita:
Most read content: