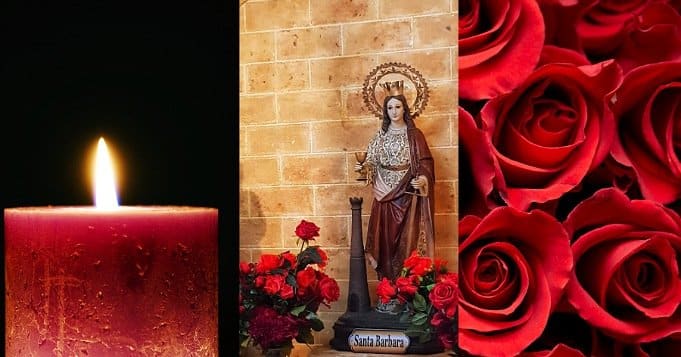 A crimson tide roams the temple day by day. People honor the saint, the orisha, wearing red, their color.
Santa Barbara syncretized in Yoruba religion and Creole culture with Monkey, is one of the most revered deities by Cubans. The saint, mistress of thunder; the warrior, symbol of strength and virility, lord of lightning and fire.
From the deities, the Cubans ask for protection and help to get ahead and leave problems behind. They bring him offerings, make him promises. Throughout Cuba, Holy Barbara Blessed and Chango.
National Sanctuary of Santa Bárbara
One of the main places where his followers go is to the National Sanctuary of Santa Bárbara, which is located on Guasimal street on the corner of Calixto García in the town of Párraga, located in the Arroyo Naranjo municipality.
In 1950, Father Arencibia, who was said to have a great devotion to Santa Barbara, decided to raise funds for the construction of a larger church dedicated to the saint.
Thus, and with the donations of the Archbishop of Havana, Manuel Arteaga Betancourt and the first lady Martha Fernández, wife of Fulgencio Batista, the church was built, which was inaugurated in 1952.
The festival of Santa Bárbara was celebrated there for the first time, on December 4, 1953 and in 1955, the site was declared a Parish and began to be known as the National Sanctuary of Santa Bárbara.
Santa Bárbara Society in Palmira
The deities are venerated throughout the island. For example, in Palmira, a town in Cienfuegos, the Santa Barbara Society It has a spiritual museum in which they practice Lucumi rites and show their devotion.
In the temple, you will find a life-size statue of Santa Barbara, with black hair and the red wardrobe that characterizes her, surrounded by flowers and apples.
There is also a smaller statue of the saint, which according to legend, is the first to reach Palmyra. Every December 4, the devotees carry her on their shoulders to walk with her, the streets of Palmira.
Leguina, a cult of centuries
Also the small neighborhood of Leguina, in the former Villa de Güines, venerates the Santa Barbara. There, celebrating December 4 is a centuries-old tradition.
And it is that Leguina houses the first sculptural image of Santa Barbara, to which the devotees go on their knees to implore his protection and help.
Undoubtedly, Santa Bárbara in Cuba represents our Afro-Cuban traditions and is a symbol of faith for all its faithful devotees.
Most read content: