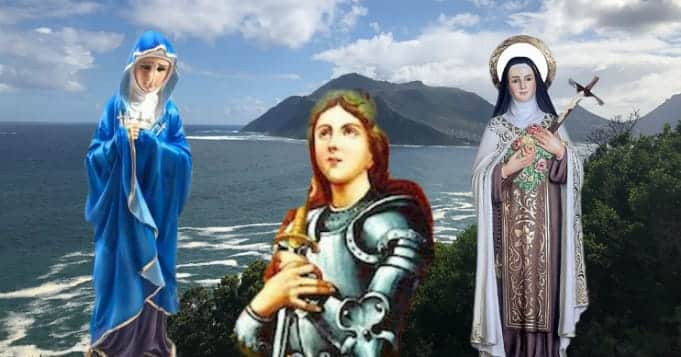 Children are the most vulnerable members of our family, so they always need more protection against the problems of life.
For the little ones, there are many parents who pray for divine protection.
For them, they ask for a future full of blessings and implore that all danger be removed from them, so that they can grow healthy and strong, away from hardship and sadness.
Showing the path of faith and prayer to a child, and explaining that there are saints and protective angels who will guide them and protect them from all evil, can positively influence the child's way of seeing the world and facing life's challenges .
To help you face those fears that the usual events of life bring, we can explain that you will always have heavenly protectors who will help you overcome difficulties.
3 Saints and their Catholic prayers to protect children
There are several saints and angels of the Catholic Church that have, among their main mission, the protection of infants.
To them, the children themselves can dedicate simple prayers and parents can pray if they are worried about a specific event associated with their little ones.
Three saints of the Catholic Church, specifically, are closest to the little ones, and their blessings can bring peace to the child and good things to his life, his home, his family and his friends.
1. Saint Joan of Arc, protector of the little ones
Joan of Arc, also known as the Maid of Orleans, was a French peasant girl. She saint and heroine of France who was burned at the stake accused of heresy by the Inquisition in Rouen.
While her country was in the midst of war, Joan of Arc experienced a series of events that she described as divine, because at only 13 years old, she claimed to have seen Saint Michael, Saint Catherine and Saint Margaret.
It is said that in these visions, the saints ordered him to lead a "devout and pious" life. Years later, God himself entrusted him with the mission of helping France regain the throne.
Thus, in 1429 Joan of Arc, under divine orders, led the army of more than five thousand men, obtaining a victory that allowed Charles VII to be symbolically crowned as King of France in Reims. Then the young woman recovered territories until she reconquered France.
Joan of Arc was eventually captured and tried by an ecclesiastical court. During this process, the young French woman declared that the voices she heard came from the saints and from God, but the court accused her of witchcraft and paganism.
On May 30, 1431, at the age of 19, Joan of Arc was burned to death at the stake in the Place de Rouen. She was beatified in 1909 and canonized in 1920.
Joan of Arc is the patron saint of France and a symbol of the innocence of childhood, which is why she is considered a holy protector and benefactor of the little ones.
How does the power of Joan of Arc help us?
We pray to her that:
Guide our children on the path of good and do not allow bad desires or negative energies to harm them.
Protect them from evils such as dangers, enemies and diseases.
Prayer dedicated to Saint Joan of Arc
So we pray to Saint Joan of Arc with this prayer for the protection of children and to ward off evil from their little souls.
Beloved and glorious Saint Joan of Arc, my special patron saint, friend and sister in Christ. On this day I come before you to ask for your continued intercession together with the Virgin Mary before Jesus.

I ask you, My miraculous Saint, to help my child and guide them along the paths of life

Help him fight the battles God sends him with the same courage and dedication that you had.

Just as you wore a physical armor, help me put on the armor to always protect him and always remain in a state of grace.

Holy merciful accompaniesaña to my little one every day of his life and keep him away from danger and sadness.

Glorious Saint Joan of Arc, full of compassion for all who invoke you and love for those who suffer, I kneel before you to humbly ask you to take my child under your special care.

Powerful Saint Juana, give her your light, Amen
2. Saint Therese of the Child Jesus, protective mother
Virgin and Doctor of the Church, Saint Teresa of the Child Jesus entered the monastery of the Discalced Carmelite nuns in Lisieux at a very young age and was a teacher of holiness.
At the age of 9, she began to feel restless about religious life and about following the path of her sisters, both Discalced Carmelites.
When he turned fourteen he felt the experience of his conversion and a year later he asked to enter the convent, Pope Leo himself asked if he could enter the convent at fifteen.
Already in the Carmelo convent he prayed with immense fervor for the priests and the missionaries. Because of this she was named after her death, with the title of patron saint of missions.
He suffered a lot the last 18 months of his life, in terms of bodily suffering and spiritual tests.
Thus, she was beatified in 1923 and canonized in 1925. She is presented as a protector of infants for being an image of innocence and purity of heart.
In what situations does Saint Teresa protect us?
Mothers pray to her to ward off evil from their little ones and help them get ahead in the face of any difficulty.
Saint Therese will always be ready to intercede for children, the most innocent, who require immense heavenly protection.
Prayer to Saint Therese for the protection of children
This is how we pray to Santa Teresita for the health of our little ones, put all your faith and light a white candle in her name to invoke her power.
Holy Teresita! Send on the soul of my child a shower of flowers of grace and virtue,

Oh Saint Therese of the Child Jesus, who has justly been proclaimed Patron Saint of Missions around the world

I beg you to protect him from all evil and not let him suffer, a victim of the evils of this world.

My Saint, guide him with your light so that no dark being canañanever let go of him, protect him and don't let go of his hand

I ask you, my kind protector, to separate his heart from the vanities and expired pleasures of this life, and teach him to love with true love,

Pray for us, oh blessed Santa Teresita

Amen
3. Virgin of Sorrows, for love of her son
The Virgin of Sorrows, is an invocation of the Virgin Mary, in some parts of the world, which is also known as:
Virgin of Bitterness, Virgin of Mercy, Virgin of Angustias, Virgin of Solitude or La Dolorosa.
It is the Virgin who represents many mothers for the same anguish and suffering that Mary experienced for love of her son.
And as the Virgen de los Dolores embodies all the suffering of the Virgin for her son, it is said that the greatest pain of a father is to see his offspring die.
Even for the Catholic Church, the highest peak of love and pain is what a woman, a mother, suffers before the death of her son, human language will never be able to describe it.
For this reason, Mary is considered the image of the greatest sacrifice and love, since she saw him die on the cross.
Christians have always learned from Our Lady of Sorrows to love Jesus Christ better. The devotion to the Seven Sorrows of the Virgin Mary is one of the highest precepts of the Catholic Church.
Due to its history and its symbolism, the Virgen de los Dolores is also a protector of infants.
Mothers pray to her asking that:
Always accompany your children and
guide them on the path of life.
Beautiful Prayer to Our Lady of Sorrows
This is the prayer to Our Lady of Sorrows to ask for the children
God save you, Mary, full of sorrows; Jesus crucified is with you;

Our Lady and Mother: you were serene and strong next to the cross of Jesus. You offered your Son to the Father for the redemption of the world.

Today I ask you My Saint, to guide my son and protect him always. It comes to our house and to our hearts, where the Most Holy Trinity dwells.

To you, gracious maiden, today mistress of sorrows, I ask you to watch over my little one while he grows up, so that he becomes a good man and no dark shadow deviates him from your light.

I call on you, Mother, to be his guide and support, so that you do not allow pain or sadness to overwhelm him.

Virgin Dolorosa, heavenly princess, never forsake him, let him see good paths

Give me wisdom to guide him and bless everything he does in this life

So be it, Amen
Get to know other prayers and more to cure ills:
Most read content: