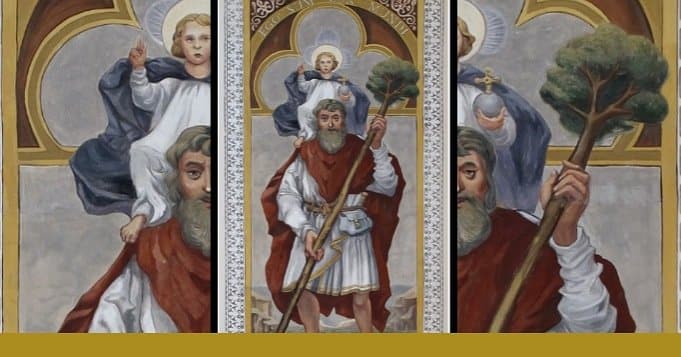 Saint Christopher, one of the 14 auxiliary saints of the Catholic Church, is venerated as the "Bearer of Christ". And it is that the legend tells that he carried a boy, whom he did not know, through a river.
During the crossing, the river grew and the boy seemed as heavy as lead, to such an extent that Cristóbal could barely carry him and encountered great difficulty.
When she left him safely on the other shore, the little boy revealed that he was Christ.
"You have put me in the greatest danger. I don't even think the whole world is as heavy on my shoulders as you have been."Cristóbal told him.
And the boy replied:
"You have not only had the weight of the world on your shoulders, but also the man who created it. I am Christ, your king, whom you have served in this office.", Told him.
For this reason, Saint Christopher, the patron saint of travelers, is considered and his effigy is worn on medals, bracelets or in figures for vehicles by Christians, as a symbol of protection and protection against the greatest dangers of life. .
This mighty Saint as one of the 14 holy helpers, which together are deities revered for being saviors and healers of diseases, also protects from ailments.
In the case of San Cristóbal, he is considered a powerful intercessor in dangers, and he is specifically implored against the bubonic plague, an infection produced by a bacterium that currently exists despite being considered an ancient and very rare disease today.
History and devotion al Christ bearer: San Cristobal
Saint Christopher has a presence in the Catholic and Orthodox Church, as a martyr killed during the reign of Decius emperor of Rome who reigned from 249 to 251.
Although there are those who establish their life during the reign of the Roman Emperor Maximino Daya who reigned from 308 to 313.
It is said that after converting, he was welcomed by Christians, who were martyred because they refused to make sacrifices to the pagan gods.
The king tried to earn him with riches and sending him two beautiful women to tempt him, but Christopher converted the women to Christianity, as he had already converted hundreds in the city.
For this reason, the king ordered to kill him and after several unsuccessful attempts, Cristóbal was beheaded.
Saint Christopher is a very popular and revered saint, especially for athletes, sailors and travelers and in Spain.aña, is the pattern of conductors,
In Cuba, San Cristóbal is a protective symbol of Havana, the capital of the island, loved by thousands of Cubans who ask for his blessings and care.
He is asked for help to cross rivers and waters. It also brings health and cures to the sick and most needy.
Prayers to Saint Christopher so that "deliver us from all evil"
Blessed Saint Christopher, you who had the grace to carry Jesus on your shoulders, how strong and powerful you felt,

and the Lord made you see your littleness and your life was filled with light, when you discovered how his strength and not yours, made you this time, truly strong.

Glorious Saint Christopher ask your beloved Jesus, to free us from all evil.

Lord, give me a firm hand and a watchful eye so that in my step I do not cause harm to anyone.

To you Lord who gives life and preserves it, I humbly beg, keep mine today at all times.

Libra Lord, those who accompanied meañan, of all evil: shock, disease, fire or accident.

Teach me to also make use of my car, to remedy the needs of others.

Finally, Lord, make sure that the vertigo of speed does not drag me away, and that, admiring the beauty of this world, I manage to continue and finish my path with all happiness.

I ask you, Lord, through the merits and intercession of Saint Christopher, our Great Patron.

Amen.

We pray three Our Fathers and Glory Be.
To open paths! in the name of the great Saint Saint Christopher:
We can pray to San Cristóbal when the roads are closed and our plans do not work, when projects are on hold and better opportunities do not appear.
Thus, we address the following prayer to Saint Christopher to open the doors:
Blessed Saint Christopher, glorious martyr and holy benefactor,

distinguished protector of all who undertake the path, guardian, mediator and benefactor of all those who want to reach a good destination in this life.

That you traveled the world in search of happiness to find the truth and appease your licentious conscience,

and you did not find any master and lord to fulfill your desires until, in the figure of a tender Child,

you found Jesus and taking him in your arms you helped him cross the river and he rewarded your good deeds and gave you a blessing and he was your only God and Lord forever.,

assist us and make us enjoy happiness and safety, be our lawyer and protector in our ways, give us health, work, love and well-being.

Saint Christopher blessed holy caretaker, we come full of hope in your power of intercession so that you free us from all evil and danger,

so that you extend your protective hand and free us from diseases, contagions, pain and calamities,

save us from accidents, mishaps, misfortunes and catastrophes keep us away from enemies, unscrupulous and harmful people,

clean, purify and open our paths, so that we have prosperity and tranquility, so that at all times and occasions peace is not lacking in our lives,

And give us your valuable help when we find ourselves lacking in hope, strength and energy to continue, especially favor us in this that we need so much today:

(ask with great faith what you want to achieve)

Saint Christopher, martyr of the Lord, present our requests and the wishes that we confidently place in your hands,

clarify our paths, watch our steps, request that we be freed from the misfortunes, misfortunes and sorrows of this world so that one day we may reach the joys of Heaven.

We ask this through Christ our Lord.

Amen.
Other Prayers and powerful prayers to the Saints:
Most read content: