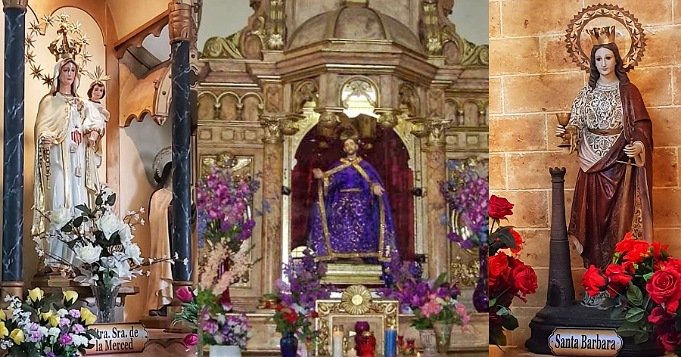 El National Sanctuary of San Lázaro popularly known as "El Rincón", it is one of the greatest exponents of religious syncretism in Cuba.
It is not only related to religion, but to Afro-Cuban roots and traditions established for hundreds of years.
By 1781, the so-called Real Hospital de San Lazaro, housed a temple visited by leprosy patients and devotees of old Lazaro o Babalu Aye.
Since those distant years, people already sought the guidance and spiritual help of the saint-orisha and continued to show their devotion when the temple and the hospital were transferred to the town of Rincón, in the municipality of Santiago de las Vegas.
The sacred sanctuary that shelters faith:
First a simple church was erected, but already in 1936, it was rebuilt thanks to the alms and donations of thousands of people who came to the hospital and wanted a temple that would house the deities most revered by Cubans.
Among them, the Virgin of Charity of Copper, Santa Barbara, the Immaculate, the Virgin of Regla and San Lázaro.
Today, the Church of San Lázaro is infused with spacious modernity and natural lighting, and exhibits three bells located under three semicircular arches.
Inside there are several altars or chapels with images of the holy orishas.
The Rincón de San Lázaro for Cuba and the world:
Saint Lazarus is the oldest image and the one most venerated by those who come to thank and worship him on December 17, in one of the most popular pilgrimages in Cuba, a symbol of religion and indigenous tradition.
The first celebration of the holiday was on December 17, 1917.
In front of him candles are lit, flowers and offerings are placed and people kneel to thank and implore his help.
The sanctuary also houses a fountain that is said to have been blessed by Saint Lazarus himself, whose water is highly appreciated by his devotees.
In 1998 the National Sanctuary of San Lázaro was visited by the Holy Father, John Paul II.
In 2014, it was awarded the National Restoration Prize not only for its historical richness and heritage value, but for its significance for Cuban devotees.
More about San Lázaro:
Most read content: