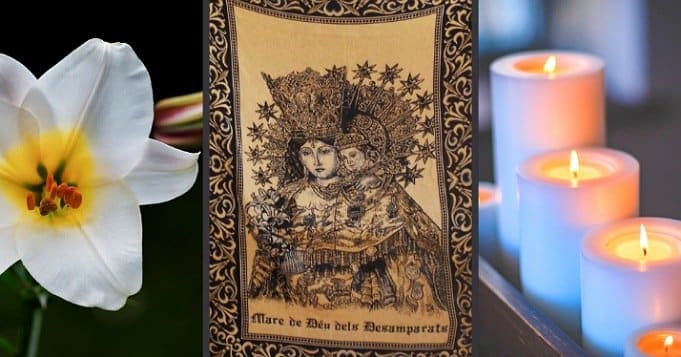 The Virgin of the forsaken o Virgin of the Innocents is considered a direct invocation of the Virgin Mary revered in the Catholic religion.
As a mother, she covers her mantle to wrap all her children on her womb in a warm embrace of all that is sublime, holy and just.
The Virgin of the Innocents is evoked to overcome just causes and find consolation in afflictions, fighting loneliness with the presence of the Holy Spirit in the home.
What virtues does this miraculous Saint possess?
She is the patron saint of the innocent, homeless and florists and all those human beings who at a given moment in their lives are left alone and aimlessly.
The Virgin of the forsaken is depicted carrying a lily in his hand and with the child Jesus carrying the cross on his other arm.
It is covered by a white or gold blanket, colors through which its purity and its dedication to almighty God are symbolized.
The festivity in homage to the Virgin of the Innocents It is celebrated on the second Sunday in May, at which time the altars of churches and homes are filled with lilies in his honor.
Devotees go to churches in order to venerate his image to pay homage to his charity and thank him for so many miracles.
This virgin is given also white and pink candles of the same color, although as mentioned previously, its representative flower is the lily.
Prayer to Our Lady of the Forsaken to ask for their help and protection:
Save us, lady and our mother.

Protect our families, our peoples, our world today.

Away wars and discords.

Join the divided hearts with the joy of feeling close to you, your children.

Give, to those who have and can, eyes of mercy and an open heart.

Give everyone bread, shelter and a loving home.

Give health to the sick, patience in pain to those who suffer, comfort to the sad, hope to those who have lost it.

Remove error from minds and weakness from hearts.

It moves sinners to return to themselves and the righteous to higher virtue.

Make us live singing to you and let us go with your name on our lips to contemplate you in glory with your son Jesus Christ, who with the father and the holy spirit God lives and reigns forever and ever. Amen.
Saints of great power who intercede on our behalf:
Most read content: