"Cachita put an addimú on each saint. To Oshún, five yolks with cinnamon, to Eleguá, flour with okra, to Obbatalá, a meringue and to Yemayá, seven black princes that he threw as an offering to the sea"…
This fragment of the book "Where the soul takes us" shows us one of the offerings that the Queen of the Sea, Yemaya, worships.
What Color predominates in the Flowers for Yemaya?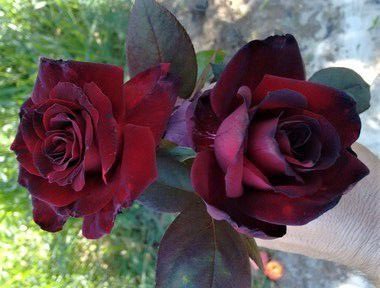 Yemaya loves to receive White roses in his temple, the sea, those are some of his favorites, it is always an offering that he welcomes.
The mother of the world likes roses, but not only white, also shows a preference for the so-called black princes, some red roses so deep that seems to turn into a blackish tone. These flowers, in addition to being beautiful, have great spiritual power, which helps us connect with the essence of the mother orisha.
Spiritual Significance of the Black Princes
The black prince rose is believed to have originated in the Netherlands, although others say the first flowers were found in Uruguay, on the Latin American continent.
They are very deep dark red flowers., but from a distance, it can be thought that they are really black roses.
We must take into account that the origin of the black princes comes from ancient civilizations, which already in itself he surrounds them with a mythical halo and chains them with magic, faith and the gods.
In ancient Rome, these flords to power and prestige. Only high-ranking women wore them to decorate their clothes and hair.
Even at some point in the history of the Nazi party, the use of the black rose was incorporated as sign of triumph and success.
It is also linked to the feelings of love and passion, which are usually more complicated. It represents that fine line that separates love from hate.
Now let's see how the roses of black princes have a powerful connection spiritual with Yemaya and how we can offer them to entertain her.
Offering of 7 Black Princes to Yemaya to beautify her temple
Being associated with ancient civilizations, it is believed that black princes can ward off evil spirits and combat bad vibes.
For this reason, when we entertain Yemaya with black prince roses, we send her a message of:
mystery and elegance: roses indicate that it is someone elegant, special and distinguished
love and tranquility: We demonstrate our love and devotion in the purest and most dedicated way possible.
To lavish her with love and devotion, she is owed deliver seven black prince flowers to Yemaya neat and beautiful, in the form of a bouquet. Añade a blue or white candle to this offering.
Where to place the flowers for the Orisha Goddess?
We deposited it on the seashore so that the waves transfer it to the kingdom of the Orisha.
If we don't have the sea nearby, we can place them in your name in front of your representation (statue) or in a place in the house where the flowers shine and beautify the space. Before the flowers wither take them to a leafy tree in her name.
Put a lot of faith in it and first of all, be thankful to the blue goddess her infinite blessings.
When placing it, let's talk to Yemayá putting a lot of faith and with our words we pray for her help, You can help yourself with this beautiful prayer.
A special prayer to Yemayá to place an order
"Divine mother Yemayá, powerful goddess of the seas, today I present this special offering in your honor with 7 Black Princes. With humility and devotion, I ask for her intercession to give me strength and protection on my path and that of the people I love. I pray that her presence illuminates our lives and guides us towards harmony and peace. With deep love and gratitude, I place this offering in her hands, trusting in her infinite goodness, I ask you with faith (make a special request). Oh Yemayá, accept my veneration and allow me to feel her presence in every step I take! Thank you"
Learn more about the beautiful Yoruba orisha Yemayá:
Most read content: