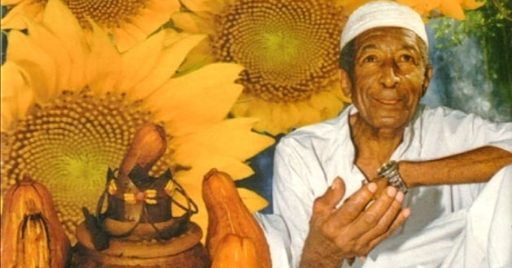 Lazaro Ros, is also called the akpwon elder for his contributions to the Lucumí cultural heritage and will plow through his powerful voice and unmatched genius to spread the true Cuban cultural identity.
Un akpwon is a Yoruba music singer, a soloist singer who dominates the prayers and songs of ritual practices and ceremonies in the Regla de Ocha o Santeria, and Ros was one of the most important in Cuba.
At a very young age, he became interested in Afro-Cuban culture and delighted in paying homage to it through his voice and musical talent and began to sing at the holy days.
He constantly traveled to Matanzas, where he is known as the greatest Lucumí and Aará music singer in Cuba.
ocha niwe, which means Saint of the Manigua, was his name of saint, and he became the most famous of the Cuban akpwones, as he triumphed in song and folk dance without departing at any time from his religious cult, the Rule of Ocha, the first sphere in which he developed his musical talent.
Reeds He is one of the founders of the Conjunto Folklórico Nacional, an institution with which he traveled the world taking Afro-Cuban culture as its highest exponent.
ocha niwe y the culture of the Orishas
Lazaro Ros in 1949 he appeared in a folk music program on Cadena Azul radio station and later joined the group that brought, for the first time, an Afro-Cuban show to Cuban theater.
He worked with the National Ballet of Cuba and the Matanzas Symphony Orchestra, and participated in the film María Antonia and was the author of the plays: El Alafín de Oyó y Arará. He also served as a professor at the National School of Art, the Higher Institute of Art and FolkCuba.
But above all he praised the Yoruba religion and the Orishas through folk music for radio and television. It is said that his most important work is the Orisha Ayé collection of records on Yoruba songs.
With his powerful voice he asked the saints for blessings and also made his film debut, participating in osain and other shorts and documentaries on the subject of African antecedents and Cuban Santeria, including El Mensajero de los Dioses, Iroko, Shango and the jicotea and Ogun.
Lazaro Ros and his incredible musical energy
Lazaro Ros, died on February 8, 2005 in the City of Havana at the age of 80. But Cuba and the world remember him as one of the greatest exponents of Afro-Cuban culture, promoter of ancestral folklore and teacher of several generations, who followed in his footsteps showing the mysteries and beauties of many years in songs and prayers.
Most read content: